George Washington: Fraunces Tavern, St Paul's Chapel and Federal Hall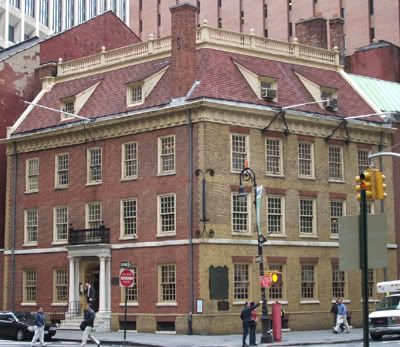 Though General Washington spent many a night at Samuel Fraunces' Tavern, the night that is most widely known is December 4, 1783. It was within the "Long Room" of Fraunces Tavern that General Washington gave notice of his retirement to his closest Generals. With a fond and emotional farewell, General Washington commenced his journey to his plantation at Mount Vernon.
With General Washington's election to the Presidency of the Newly Formed United States in 1789, his inauguration would be held at Federal Hall
(located at the intersection of Wall and Broad Streets)
.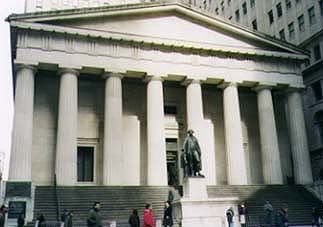 It was at St. Paul's Chapel (located at Church Street between Fulton and Vesey Streets) that the inauguration mass was held on August 30, 1789 and the eventual inauguration ceremony was held on the balcony of Federal Hall. New York City remained the interim capital until 1790.